Our President Shares the IHI Vision: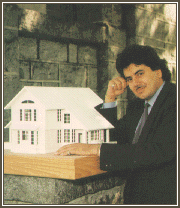 Never in history has the demand for quality construction been greater than it is today. Where the spirit of humanity goes, so does our need for shelter. Yet as the new century dawns, quality is as much in demand as quantity. IHI has dedicated itself to providing both at economies of scale attractive to the world market.
With RAR's customized software, the completion of our first three show homes, and construction (including installation of state-of-the-art electrical and mechanical systems) completed on our 80,000 square foot R&D and manufacturing facility in North Delta, British Columbia, the company moves forward to bring the IHI System directly to world markets.
Most manufactured structures are restricted in physical layouts and aesthetic features. IHI's System is neither restricted by panel size nor in its ability to be extremely flexible in aesthetic qualities. Unlike those of its competitors, the IHI System easily allows features like vaulted ceilings, cantilevered structures, and cutouts.
Whether for single or multiple-residential units, industrial or commercial structures, IHI's approach provides architectural diversity as boundless as the designer's imagination. RAR's integrated customized software substantially lowers housing affordability levels.
Our factory is located on our 15-acre Tilbury Island Industrial Area site - strategically located for easy access to raw material supplies and all forms of transportation (rail, road, highway, airport, and ocean port shipping). Tour the factory online or in person if you are in the Vancouver area.
Whether you are an Architect, an Engineer, a Developer or a potential Joint Venture Partner, I invite you to join the IHI revolution with Hi-Tech's construction system, supported by a technology beyond state of the art. Supplying flexibility, precision, and economy, IHI is the bellwether for 21st Century construction solutions.